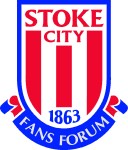 Fans Forum Meeting
21st April 2005
Thursday 21st April 2005
At the Tollgate,Stoke-on-Trent
Present
Terry Hughes (Chairman), Shaun Fynn (Treasurer), Bryan Shaw, Tony Tams,Andy Harrison, John Slaney, Andy Hyatt, Martin Eagles, Adam Allcock and David Wiggins
Apologies
Ken Moreton, Paul Barker, Julia Zuk, Rob Arnold, Jan Middleton, Clive Edwards, Paul Edwards, Chris Morgan, Laurence King and Dan Middleton.
Minutes of last meeting:
It was agreed that they were a true record
Matters Arising:
Fund raising- it was agreed to hold a joint meeting with SCWIM to sort out a fund raising policy.
Fans Forum Newsletter:
Terry said that Rob Stanway had submitted a format for the newsletter and he thought some further discussions with Rob were needed in order to finalise the finished format.
Sponsorship for the newsletter was also discussed and advertising opportunities for local companies.
Andy from the Potters Trust thought that the printing costs could be reduced substantially by using the facilities of the Community Printing Business.
Terry had previously approached the Britannia Building Society and Coca Cola, but they declined the request for possible sponsorship.
Catering:
It was reported that the meeting with the caterers, Azure, had been very useful. When asked about the non-availability of certain foods, Barbara from Azure, produced stock and waste sheets showing that there had actually been an excess of food, and then had to be thrown away after the home games.
Stuart Parnell, Azure's Manager, explained that because fans were arriving at the kiosks earlier and earlier prior to half time, certain food items would have not been ready at that point in time e.g. Chips which can only be kept in the hot servery trays for a small time before sale.
It was agreed that the major problem was communication or rather the lack of it between catering outlet staff and supporters requesting food items that appeared to be unavailable.
Terry agreed to highlight the problem in the next home game programme on the Fans Forum page.
John Booth, Stoke City's Business Manager, said he would liase with John Alcock, Ground Safety Officer, regarding the usage of mobile catering units at pitch side locations at half time intervals. Although the range of products would be limited to basics, but it was seen as an attempt to relieve the congestion at the catering outlets in the concourses.
Andy Harrison and Bryan Shaw made representation to both the Club and Azure about the hiring charges for Delilah's for supporter functions. As a result of this representation, Azure had agreed to the free use of the facilities, for a specified number of events, possibly no more than six events per season. Discussions will take place during the close season to set the dates for this welcomed concession to be applied.
Season Tickets:
Terry explained that there had been numerous complaints about the advertising of the sale of season tickets for next season, despite receiving reassurances from the Club that more information would be mailed out to supporters.
It was felt that there had been too much reliance on the Sentinel, who were advertising the launch, with little on alternative promotional back up.
The original launch date had to be delayed by 5 days giving fans even less time to renew their season tickets at the very attractive early rates.
It was pointed out that the Club had sent out letters to supporters who hadn't renewed their tickets, saying that they were sorry to see that the Club records showed that no renewal had taken place, which on the face of it seemed to go against the original decision of not writing to season ticket holders, because of the cost of postage.
Everyone expressed their opinion that the launch hadn't had the intended impact and suggested that the mechanics of such a launch should be fully discussed early next year when the item of season tickets and prices for the 2006/7 season will be debated.
Stoke City Official Website:
It was pointed out that the Stoke website which was co-ordinated by Ian Bayley and Premium TV, was from time to time prone to show misleading or inaccurate information. A member of the Oatcake message board regularly contacted Ian pointing out the discrepancies.
Terry had contacted the Club and suggested that rather than have this 'unofficial' monitoring of the site from the supporters perspective it would be far better to invite John Paterson, onto the Forum, specifically to monitor the site on behalf of the supporters.
Ian and Tony Scholes have agreed to this and John and Ian are now currently working together on a regular and formal basis.
Fundraising:
Andy Harrison said that there was to be a meeting at Vale Park of representatives from various members of Supporter Trusts and he felt that some positive information could be gleaned to assist the Forum in their fund raising efforts.
Currently all expenses incurred by the Forum are paid by Forum members. Over a period of time donations from various Supporter Groups and the Club itself have ceased to be made available, which severely restricts some of the Forums initiatives throughout the year.
Liaison with SCWIM was discussed and has been mentioned previously in 'matters arising'
The fans Forum will be holding a raffle on Sunday 22nd of May in an attempt to obtain some funds to help reduce the dependency of members having to use their own money in order to maintain even the most basic of financial Forum requirements.
Terry is donating a signed Stoke City football and John Slaney offered to donate a bottle of whiskey from the Knypersley & Biddulph group, Bryan and Dave thought that their groups could donate similar items as well. The Club will be asked for a donation, which they have always assisted us with in the past.
Fans Forum Constitution:
A meeting will be called to discuss this issue in full. Forum Members will be notified by Terry when that date for the meeting has been set.
Shaun will be preparing bank details for that meeting.
Rather than 're-invent' the wheel, it was proposed that examples of two or three constitutions currently in place for other supporter groups should be reviewed as to their suitability for adoption as a constitution for the Forum.
Date of next Meeting
25th of May which is a Wednesday at the Tollgate starting at 7pm.